Custom Stable Care and Handling
Scleral Lens Society Insertion, Removal, Troubleshooting and Lens Care Video
At Wichita Optometry, our optometrists are dedicated to helping patients get the vision treatment, products, and services they need to maintain their vision and eye health. We proudly serve the residents in and around the Wichita area, providing vision correction solutions for those who may not be suitable candidates for standard contact lenses by prescribing scleral contacts.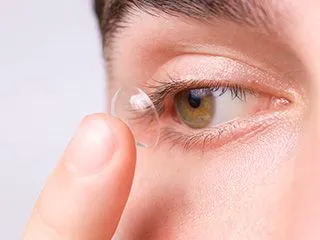 Scleral Contact Lenses
While most people can wear standard contacts regularly, some individuals may face issues related to conditions such as:
• Astigmatism
• Irregular corneas
• Dry eyes
• Hard-to-fit eyes
• Cornea problems
• Keratoconus
Scleral contacts are larger and easier to fit over the eyes, providing more comfort and helping maintain healthy, clear vision. These conditions can cause discomfort, affect vision quality, and limit vision correction options. Scleral lenses offer a solution for those who prefer to avoid wearing glasses and want clear and secure vision through specially designed contact lenses.
Are Scleral Contact Lenses Right For You?
To determine if scleral lenses suit your needs, schedule a contact lens exam with your optometrist. They can assess your specific requirements and determine if you are a good candidate for these contacts. Depending on your condition and personal details, you can order these special contacts directly from our vision clinic. We can also provide you with regular exams to monitor any changes and update your prescription to ensure clear and comfortable vision.
Learn More at Wichita Optometry in Wichita, KS
Having vision management and correction options, even with issues related to eye conditions, can be a significant confidence booster. If you want to learn more about scleral contact lenses or schedule a contact lens exam, please get in touch with our office at Wichita Optometry. Call or visit our office to speak with one of our staff members and get details about availability, payment options, insurance, and more. We strive to provide the Wichita area residents with superior vision services for the whole family.
Whether you need treatment for specific conditions or vision issues, we are here to help you and monitor your progress for any changes. Don't wait to find out if you can wear contacts even if you didn't think it was possible due to an existing complication or condition. Call us today at (316) 942-7496, and let's work together to find excellent solutions and treatment options.