Macular Degeneration Treatment from Your Optometrist in Kansas City, KS
Since there is no way to prevent age-related macular degeneration (AMD), early detection is important for preserving vision. Our Kansas City optometrist notes that around 1.8 million U.S. residents have this disorder and an additional 7.3 million are at risk for it. At Wichita Optometry, our practice recognizes the importance of early diagnosis and continued monitoring of AMD patients.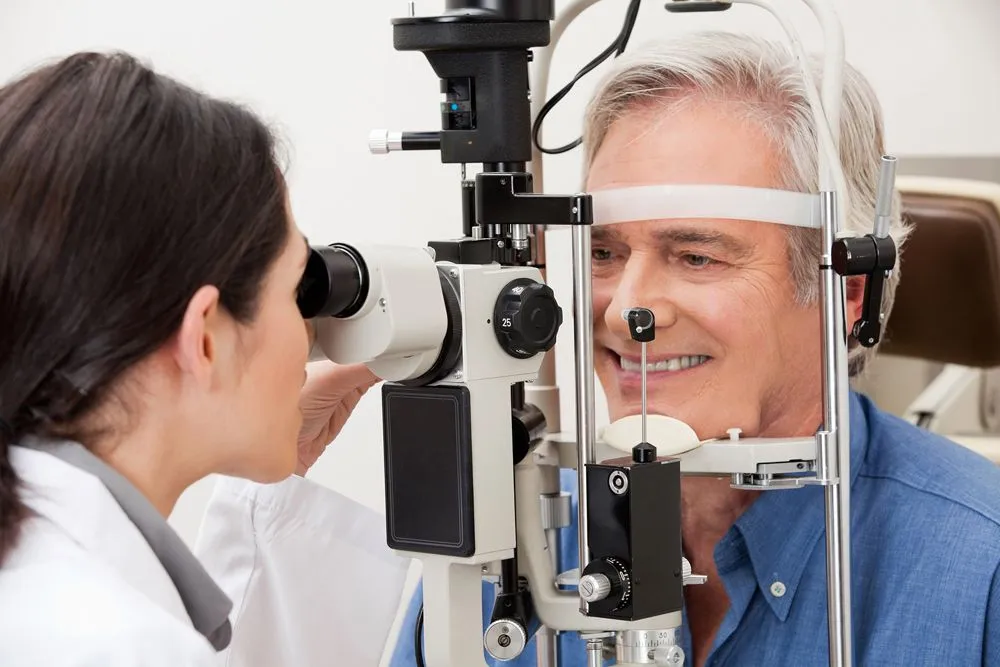 Overview of Macular Degeneration
Macular degeneration results in a loss in the central field of vision. Alterations in the macula, a small section in the middle of the retina, cause this disorder. There are two kinds of AMD: wet and dry. Although not every patient with dry AMD develops the more-serious wet form, all wet AMD patients originally had dry AMD. Researchers have not pinpointed a specific cause of either type.
With the loss of central vision comes the inability to see colors and small details. Many individuals do not recognize any problem until the condition has reached an advanced stage. Unfortunately, it is impossible to restore central vision once patients have lost it.
For patients with dry AMD, symptoms usually develop gradually and also in both eyes:
Visual distortion that makes straight lines look bent
Difficulty recognizing faces
Reduced color intensity or brightness
Necessity of brighter light to perform close work
Reduced central vision
More trouble getting acclimated to a lower light level in a room
Escalating blurriness of print
Some of the signs of wet AMD are similar:
Reduced central vision
Bent appearance of straight lines
Overall haziness of vision
Specific blind or blurry spot in the central visual field
Lowered color brightness or intensity
Quick onset or worsening of symptoms
AMD Treatment from Our Eye Doctor
Our eye doctor stresses the necessity of getting an early AMD diagnosis. We are able to diagnose this condition during a comprehensive exam examination. For patients with the dry form of the disease, dietary changes and use of specific nutritional supplements sometimes slow the rate of vision loss.
When there is an early diagnosis of wet AMD, laser treatment can limit vision loss. Injections of eye medication are appropriate for some sufferers. Another alternative is the use of a laser to activate medication injected into the patient's bloodstream.
Schedule an Exam with Our Kansas City Optometrist
The goal of Wichita Optometry is providing patients with the highest standard of care to help protect their vision and ocular health in a welcoming environment. Regular eye exams by our Kansas City eye doctor are important for diagnosing macular degeneration and other eye diseases at an early stage. Take a moment today to call us at (316) 942-7496 to schedule your next exam.