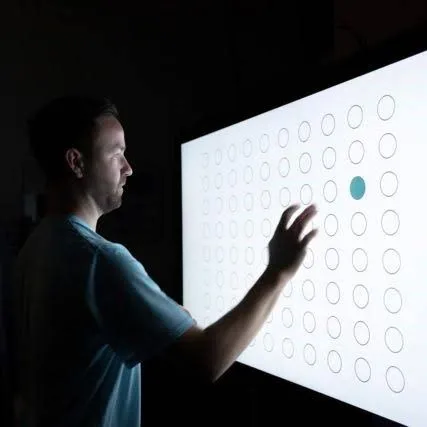 All athletes have one key attribute in common, the desire to take their skills to the next level and gain a competitive edge. They strive to improve reaction times, physical strength, mental stamina, nutrition, flexibility, confidence and intelligence in their sports. However, one key fundamental element is often overlooked. Vision.
Having 20/20 vision is simply not enough. As an athlete, you may be performing at higher-than-average levels but how do you compare to other athletes? Sports Vision utilizes a performance-oriented evaluation to determine how to maximize your visual potential and enhance your game. With top-of-the line technology, each athlete will complete a series of tests that will compare your performance to other athletes that are competing at the same or higher levels.
Your optometrist will develop a 6- week personalized training program that will enhance your visual potential and propel your athletic abilities to their peak. Each athlete will begin their program with one in-office training session per week along with additional at home training. Progress is continuously tracked and adaptations are made as the skills improve. Upon completion of the 6-week session, a reassessment of skills is conducted. If the performance level desired is accomplished, the course is completed. If not, additional training sessions can be scheduled.
---
---
Dr. Broberg grew up in Wichita, KS and graduated from Wichita Collegiate High School.
She played basketball as a student-athlete at Hendrix College in Conway, AR where she also received her Bachelor of Arts degree in Allied Health in 2015.
Dr. Broberg graduated magna cum laude from Midwestern University Chicago College of Optometry in Downers Grove, IL in 2022 with her Doctor of Optometry degree.
She is a member of the American Optometric Association and Kansas Optometric Association.
Dr. Broberg practices primary eye care and enjoys sports vision, pediatrics and ocular disease.
Dr. Broberg is married to Connor Carman. They enjoy playing golf, sporting events, concerts and traveling.