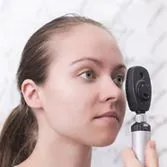 If you've been diagnosed with keratoconus, you probably have a lot of questions concerning your condition and treatment. By understanding more about this disease, you can make wise decisions on how to manage this eye condition. These FAQs from Wichita Optometry, P.A. provide you with more information about keratoconus, its symptoms and treatment.
What is Keratoconus?
Keratoconus is an eye condition wherein the cornea of your eye starts to thin and bulge out into the shape of a cone. A misshaped cornea can adversely affect your sight, making it difficult to perform daily tasks like reading or driving, even when you wear corrective lenses. The disease may start when you're a teen and become progressively worse as you enter your adult years.
Who's at risk of developing keratoconus?
Keratoconus can affect people from all backgrounds and walks of life. Studies show that men are more prone to getting this eye condition than women. If you wear contacts, suffer from eye allergies, rub your eyes continuously or have a relative with keratoconus, you're at greater risk of developing the condition. By having your eyes tested regularly, your Wichita eye doctor can detect this condition early on so you can get treatment to manage your symptoms.
Does keratoconus affect both eyes at once?
Yes, people who have keratoconus in one eye generally get it in the other. The distortion of vision, however, won't be the same in both eyes.
What are the symptoms of this condition?
In its early stages, keratoconus may cause blurred vision. As the condition progresses, you'll start to lose visual acuity in one or both eyes. Additional symptoms include sensitivity to light, ghost images, loss of night vision, headaches, eye pain and constant change of eyewear to keep up with the progression of the disease.
What kind of contacts can I wear with keratoconus?
We recommend scleral contact lenses for people with keratoconus as the contacts completely cover the cornea of the eye to improve your sight. Scleral contacts are comfortable to wear and stable to use, making them the best choice for improving visual acuity of individuals with this condition.
What is corneal cross linking?
Corneal cross linking is a surgical procedure used to help treat keratoconus. The procedure combines the use of vitamin B2 eye drops with UV light to keep the cornea of your eye from thinning and bulging. Cross linking helps prevent keratoconus from progressing. It cannot, however, cure the disease or reverse any damage that's already been done.
See Your Wichita Eye Doctor for Keratoconus Treatment
To schedule a consultation for diagnosing or treating keratoconus, contact Wichita Optometry, P.A., at (316) 942-7496 today. We look forward to meeting all your eye care needs.